I give FREE Advice: So before even thinking of "Buying any service", EMAIL ME for FREE Advice!
(Email me at: wp.advice@7php.com)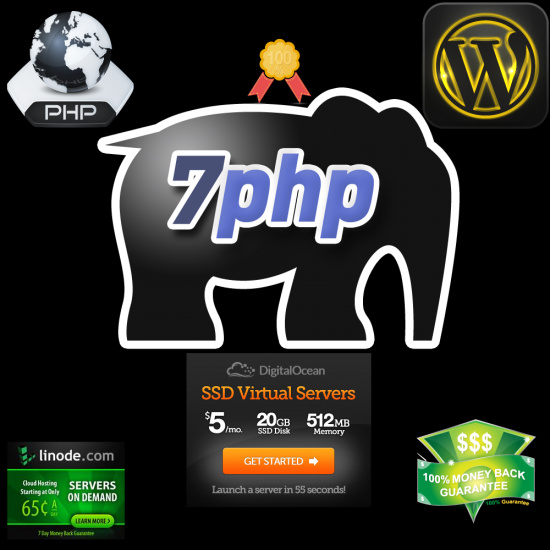 Do You Need To Hire Someone To Install WordPress Or Handle WordPress Updates For You? Or You Want Someone To Do Your WordPress Migration?
If you are looking to pay someone to handle all your wordpress installation and update needs, you have come at the right place.
Or you want someone to move or migrate your existing wordpress site to another domain or host?
Look no further you are at the right place! If you want to create a website and do not know where to start and is confused, you have also come at the right place.
I have 10 years of experience in handling, installing, moving, fixing and updating wordpress stuffs. Don't take my words for it. Want to see for yourself?
7PHP Do Not Just Say He Can, But 7PHP build and run 7php.com itself out of experience!
Who Is Behind 7PHP
Hi, my name is Khayrattee Wasseem and you can read more about me & what I do on my home page at 7php.com
You can also view my client portfolio here on: khayrattee.com
My brand – 7PHP (SevenPHP) is trusted globally – read all 7PHP testimonials here – click!
5 Reasons You Should Trust 7PHP For Your WordPress Installation Needs!
7php.com, this very blog/website, you are reading is powered by WordPress and the Genesis WordPress Theme Framework
7php.com is self-hosted at DigitalOcean – a VPS server starting at only $5 per mnth with dedicated IP address & server space. Yes, I rent a slice and setup everything from scratch in there.
I even do manual wordpress updates on VPS server like I explained in this article: How I Update WordPress Manually On A VPS Server Like Linode.
I'm a Programmer and a PHP developer, so I know my drill
I have 7+ years of experience using WordPress
'101% Client Satisfaction First' – is my working philosophy!
What 7PHP Can Do For You?
Install WordPress
Ongoing service and support
install any wordpress plugin by selecting most appropriate one for your needs
install any wordpress theme (free and paid)
Update your wordpress, any plugins and theme
Only update plugin(s)
Migrate your WordPress to another server / domain or host
If you want to start with a website of your own and do not know how to do things – I will guide you! (contact me to discuss)
I can also buy your domain, buy your hosting space, or even host you on Linode /DigitalOcean or any host of your choice together with your wordpress installation
Move your WordPress site to another domain
Hiring someone to help teach you the wordpress drills
Email Marketing Setup (using a self-hosted solution like Newsletter system OR a service like aweber or mailchimp)

Troubleshooting
turning your wordpress into a Membership site (using either aMember)

Add a Job board system to your wordpress site (using 9to5)
Integrating a forum with wordpress, something like bbPress

You NAME IT

!
WordPress Is Free, BUT Hiring A Pro Will Save You Time, Frustration & Confusion
Do What You Are Good At And Let 7PHP Handle The Technical Aspects Of Your Blog/Website
You are absolutely correct if you say wordpress is free (open-source). Anyone can download wordpress and install it. You can too if you know what you are doing. But… there's always a but!
Would you not want to just focus on what you do best, i.e, writing contents and just hit publish?! Would you not want to just focus on your marketing efforts?! Of course you do!
You want to let someone else handle the technical stuffs of setting up a blog and updating or maintaining it, while you can peacefully concentrate on writing content + marketing your products! That's why you should hire someone's wordpress installation service.

It might also be that you have never set up a website before and perhaps also you have little understanding of what a web host or domain name is. Yes, we all know that there are instructions all over the Internet available to help and guide you through.
But still you will need to have a basic understanding of what wordpress is and how to do things correctly! And every now and then you will need to update to newer versions!
A qualified PRO like 7PHP knows the best places to go to get your domain name, your hosting account and everything else you will need. I know how to setup your blog correctly and what plugins you will need and how the configuration should be tweaked! I can help you make better decisions and speed of your blog creation.
7PHP's WordPress installation service is The Right WordPress Service for YOU, make no mistake about that! Hire 7PHP now for your wordpress needs, you will not regret.
7PHP's WordPress Installation Tasks
1) Install wordpress
2) Install 6 important wordpress plugins
Akismet – to block spams / Spam Prevention
All In One SEO Pack – to make your blog rank better by being search engine optimised
Google Sitemap – to generate your XML links for Google Webmaster submit + will help get your blog to get indexed quickly by Google
Show Top Commentators – to encourage commentators on your blog
Twitter Facebook Social Share – to help you get social
WP-UserOnline – Enable you to display how many users are online on your WordPress site
3) Make your blog display search engine friendly URLs
I will tweak your root's .htaccess and set your permalinks to look "pretty" and hence boosting your SEO and rankings on Google
4) Install a theme of your choice and do any widget configuration to match your needs
5) Post your first article
(if you want me to, but you will need to provide me with the text contents)
6) Install Google analytics code and any tracking code that you want
If you do not know what that is, I will guide you to sign up with Google Analytics – it's free and effective! Or you can also use SiteMeter.
9) Clean your blog's from the default sample pages, sample contents and comments
When you first install your wordpress blog, it comes with demo contents and pages..etc You do not want to show all that. I will remove them gracefully.
10) Create any Category, Tags or Pages that you might want
This one is up to you..
11) Do a GENERAL configuration settings for your blog to start rocking asap!
Pricing For 7PHP WordPress Installation Service
I can offer a basic package at a Reasonable PRICE ==> Contact me for a quote!
For a customized Price = Please contact me with your requirements & I will work a pricing for you!
(Email me at: wp@7php.com)
++ There is No Risk ++
===> You pay me the remaining 50% AFTER you ARE SATISFIED – Simple! <===
Do You Want A Customized Quote For Your Website? Hire Me For A Custom Need!
Ultimately you have to make the decision that will best fit your budget. But if you feel that your needs are different from the package above, do not worry you can still hire my service!
Just email me (wp [at] 7php.com) with your requirements and I will get back to you with a suggested price and advice!
I give FREE Advice: So before even thinking of "Buying any service", EMAIL ME for FREE Advice!
(Email me at: wp.advice@7php.com)