Intro
Hey there, my name is Khayrattee Wasseem a.k.a 7PHP and I live in Mauritius, a beautiful island in the Indian Ocean. I am very passionate about The PHP Community (#PHPc) and I'm fond of coding in PHP, the language as you would expect. I am also the founder of The PHP Usergroup for Mauritius – the first php usergroup in the island as of 2016.
Thankful To The PHP Community
Thanks to #PHPc, I have been able to attend Three Major PHP Conferences across the globe:
PHP North West Conference in Manchester/UK – Oct 2014
Sunshine PHP Conference in Miami/USA – Feb 2015
The BG PHP Conference in Sofia/Bulgaria – Oct 2016
In the process, I had the great honor to meet-in-person some of the PHP Rockstars as well:
Rasmus Lerdorf – The creator of PHP himself
Cal Evans – The father of The PHP Community a.k.a The PHPc Don
Michelangelo van Dam a.k.a The Godfather of PHPc
Derick Rethans – Creator of the famous xDebug
Sara Golemon – Core PHP Team member & HHVM
Matthew Weier O'Phinney – The Supreme Allied Commander of Zend Framework (he's on my left in the picture above in greenish shirt)
See the whole list of person I met here – click.
That was a DREAM COME TRUE. Thank you so much dear #PHPc and everyone that made it possible.
How 7PHP Started
In my mid-20s, as a professional web developer, I had a strong positive feeling for the opensource philosophy. During those years I had grown an unexpected passion for the PHP language (and Linux) despite the comfort and elegance which [C#/ASP].NET provided. I must admit I hated php4 the first few months. But then when I got back on the 5.x version after a year or so, I immediately got a hunch that this PHP will no more be just any scripting language, "the giant is growing day by day". (And today in 2016/2017, I can say I was right in my belief!)
To further cultivate my love for PHP and to help me keep in touch, this blog (7php.com) was born on the 30th March 2010. At that time, this blog used to be mainly a medium for me to share my day-to-day experience with PHP and everything that is directly or indirectly linked with PHP. ("Writing on a subject matter on a regular basis, undoubtedly boost the probability of you getting better at it").
But as from YEAR 2011, 7php.com has matured more into a platform where I carry regular interviews with Prominent PHP elePHPants, Members and Entities that form part of The amazing and magical PHP Community. And THANKS to it, I'm known online to The Global PHP Community as 7PHP.
The Official 7PHP Logo
Please see the About The 7PHP Logo – click
The Wasseem Khayrattee Avatar
I do use the following avatar-me around the online-sphere so that you recognise me.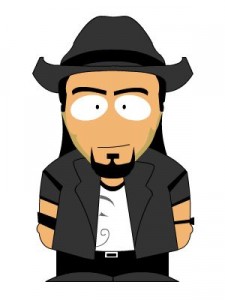 The Below Me When I Was Younger – in YEAR 2010