An 7PHP Profile for Michelangelo van Dam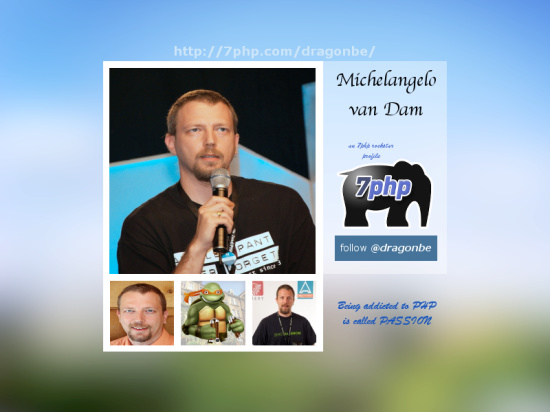 All 7PHP Articles Featuring Michelangelo van Dam
Some 7PHP's 'handwritten' quotes for Michelangelo van Dam
Michelangelo van Dam dedicates almost all of his time to his 'professional PHP life' and The Community.. He is amazingly generous in sharing his knowledge
Michelangelo van Dam has the coolest name ever in the PHP community ~ (this one is copyrighted to His PHP-Highness Cal Evans)
Michelangelo Always Gives Back!
Michelangelo is a green elePHPant that keeps the PHP Community close to his heart; he engages the community to an extent that always goes beyond
Michelangelo is a black belt (Ninja Turtle) in PHP, he is a PRO at doing Parkour & free-running with Zend Framework, leads a PHP consulting firm in the Benelux (in2it), he trains new PHP Jedi whether it's about PHP itself or about Zend Certification exams, he talks about PHP Quality assurance, is a regular speaker at so many PHP Conferences, hosts unconferences, is a regular sponsors at so many user group events & online talks (namely DayCamp_for_Developers), is someone who strives for quality
Michelangelo van Dam's Profile Elsewhere..
BLOG : dragonbe.com
RESUME : michelangelovandam.com
BUSINESS : in2it.be
TWITTER : @DragonBe
FACEBOOK : fb.com/DragonBe
LINKEDIN : linkedin.com/in/michelangelovandam
GOOGLE+ : +MichelangelovanDam
SLIDESHARE : lideshare.net/dragonbe
CO-FOUNDER OF: phpbenelux.eu
ZCE Yellow Page : ZEND004628
Did You Know?
Michelangelo van Dam is so addicted to The PHP Community that he tamed 50 elePHPants at once – no wonder he's tagged as a ferocious community animal
More Images of Michelangelo van Dam..